Max 20W 30W 50W Q-switched Pulse Fiber Laser Marking Machine Source GQM 1064nm for DIY Metal Engraving Tool
Price in reward points: 1353
Brand:

OEMG

Product Code:

CN230811981044

Availability:

7191
Max 20W 30W 50W Q-switched Pulse Fiber Laser Marking Machine Source GQM 1064nm for DIY Metal Engraving Tool
Quality:
Model:20W>20L>20X
Model:30W>30L>30X
Model:50W>50X
Customer can choose suitable model to buy based your general budget.
Features:
1.High reliability: All optical fiber, no space optics,
2.Fine marking:The beam quality is good, the pulse width is small, and the marking pattern is more delicate.
3.Easy to integrate:The volume is reduced by 67%, and the weight is reduced by 50%, making it easier to integrate equipment.
4.Intelligent control:The built-in cooling fan can intelligently adjust the wind speed, which is convenient for energy saving.
5.Sealed structure: Fully sealed structure is used to prevent dust and moisture, ensuring long-term operation of the machine.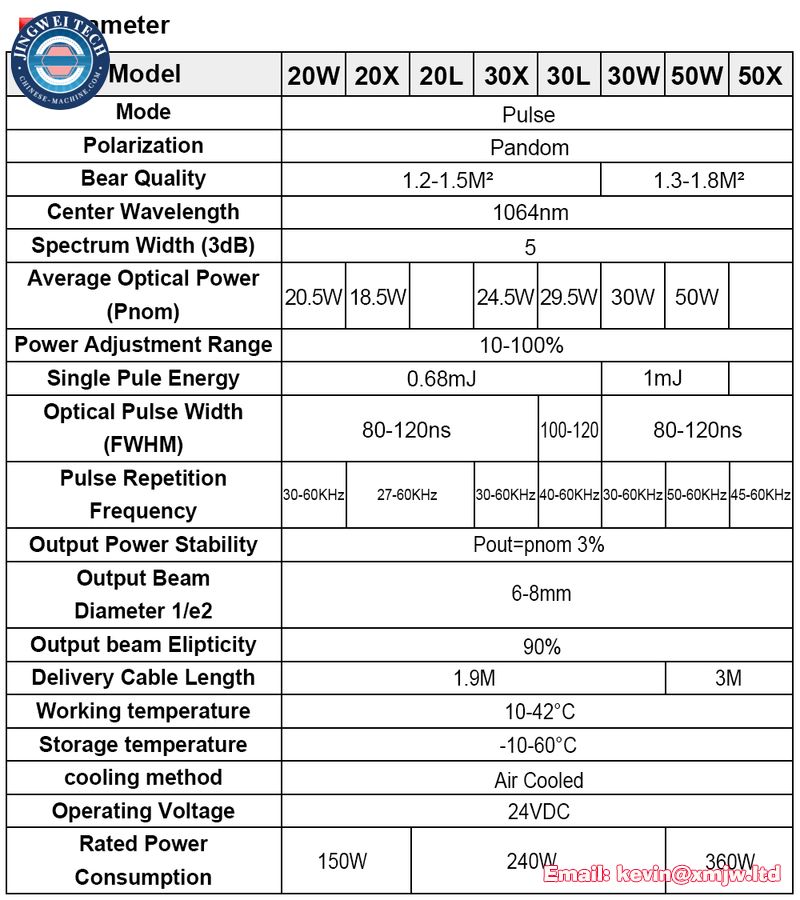 Q-Switched Pulsed Fiber Laser Series are maintenance-free fiber lasers based on the Q-switched technology and MOPFA. These lasers deliver light centered at 1064nm and guided to the work piece via a flexible metal-sheathed fiber cable. It provides a set of pulse durations, repetition rates and peak powers. The optical head may be equipped with an opto-isolator, that makes it possible to mark directly on non-metallic materials (plastic, wood, paper, etc.) and some metal with low reflectivity.
• High beam quality fiber output.
• Superior reliability, long lifetime.
• No shadow or virtual open circuit phenomenon when processing on special materials.
• Universal DB-25 interface.
Technical Parameters
NO.

Characteristics

Test Conditions

Min.

Typical

Max.

Unit

1

Mode

Pulse

2

Polarization

Random

3

Beam Quality M⊃2;

Pout=Pnom

1.1

1.3

1.6




4

Center Wavelength

Pout=Pnom

1055

1064

1070

nm

5

Spectrum Width(3dB)

Pout=Pnom




5

10

nm

6

Average Optical
Power(Pnom)

MFP-5W

4.5

5

5.5

W

MFP-10W

9.5

10

10.5

W

MFP-20W

19.5

20

20.5

W

MFP-30W

29.5

30

30.5

W

MFP-50W

49

50

51

W

7

Power

Range

10




100

%

8

Single Pules Energy

MFP-5W




0.45




mJ

MFP-10W




0.56




mJ

MFP-20W




0.67




mJ

MFP-30W




1




mJ

MFP-50W




1




mJ

9

Optical Pulse Width(FWHM)




90

100

110

ns

10

Pulse Repetition
Frequency (PRF.)

MFP-5W

10




30

KHz

MFP-10W

22




50

KHz

MFP-20W

30




60

KHz

MFP-30W

30




60

KHz

MFP-50W

50




80

KHz

11

Output Power
Stability

Pout=Pnom







5

%

12

Beam Diameter

1/e2

6

7.5

9

mm

13

Beam Ellipticity










90

%

Brand Name
OEMG
Certification
CE;CE
Model
Max 20W 30W 50W Q-switched Pulse Fiber Laser Source
Model Number
Max 20W 30W 50W Q-switched Pulse Fiber Laser Source
operating syste
EZCAD2
Origin
Mainland China

Tags: Max 20W 30W 50W Q-switched Pulse Fiber Laser Marking Machine, Source GQM 1064nm for DIY Metal Engraving Tool